The New Dawn - Maitreya Ishwara
The Implications of Unity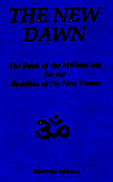 Unity is an idea whose time has come. Many spiritual leaders are calling for unity. They point to the core of common ground central to all religions and suggest a more integrated approach to religion. Talk is cheap. If you ask any spiritual leader which parts of their irrational dogma they are willing to give up for Unity, you will quickly discover that their ways are best for everyone.
All groups, gurus and religions feel their way is the right one. This is normal, and a central theme of the Kali Yuga, the age of separation. Talking about Unity is easy. Getting all religions and groups to move into a single way of understanding is simply impossible at this time. Nevertheless, Unity is scheduled to happen very soon. Actual Unity can only occur by Divine Intervention.

This book contains the foundation for Unity. Naturally, every other channel for God will have a different message. We are still in the age of separation. What all channels for God lack is a rational, integrated, unified, experiential, playful, silent, loving, creative vision for the millennium.
This book is that vision. It is given to us by God to create the blueprint for Unity. Still, even those most close to its central theme of Zorba the Buddha would not agree with much of it. And all other groups would reject it as too different from their own approach.
God loves drama. The shift from separation to Unity is accompanied by lots of drama of every conceivable kind. Soon, when the Great Change starts, we will all be propelled into another level of energy. Mindsets are easily changed when God wants them to. All thoughts and feelings of all people are easily altered by Divine intervention. This is how the Great Change from separation to Unity will come about. As you are reading this book, it means you are blessed. You are being informed in advance of many things that will come to pass. The challenge of this book is to let go of ALL your irrational beliefs and silly ideas. Become an inner scientist with a single hypothesis to verity with your own experience: God is all there is, I am not separate from That.
Just Watch
These two words are the very essence of all the wisdom of India. Shiva, Buddha, Osho and many great masters have based their teaching on this fundamental understanding of the alchemy of transformation. Your ego is programmed to achieve and improve things for you. Self-improvement is an ego trip, good for beginners, but useless for real freedom, because the ego is always subtly involved in changing things for the better.
Even if you try to surrender, again it is the ego that tries, and of course, survives in its involvement in "your surrender". Just watch means conscious recognition of your inner reality, without any subtle attempt to change it. This passive awareness of your inner world leaves the ego unemployed. Life happens and is witnessed. As simple as this sounds, it is rarely fully practised, even by seekers who have heard Osho and others recommending it for decades.
Your ego has great difficulty remaining passively aware of your inner world. Everything is as it should be. Finally, when the time is right, you start to apply the wisdom of the alchemy of transformation. By sitting silently for several hours a day, just watching your inner processes unfold, the miracle of rapid growth happens. With the silent energetic support of a living Buddha, this transformation is intensified and accelerated. And he keeps reminding you every time your ego wants to change things: Just watch.
Beloveds, when your destined time of rapid growth comes, this message may give you the support to face yourself as you are, without subtly trying to improve yourself.
Shiva and Advaita
Osho's work rests on Shiva's great contribution to consciousness, the Vigyan Bhairav Tantra. These 112 methods of meditation are the culmination of Shiva's vast experience. They are the foundation for all meditation techniques, and the essence of most of them is witnessing, or watching experience and the content of mind, with equanimity. Eventually, the witness is silently aware of itself, in pure contentless consciousness. Osho's holistic, esoteric approach rests on the support of Shiva's great knowledge of transformation. Advaita focuses on understanding and often negates the value of meditation, saying: what will be will be, no need to meditate. This is why advaita people often remain stuck in the desert of intellectualism and enlightened egos.
Meditators often feel they are responsible for their growth and are unnecessarily burdened with ego effort. Osho, Buddha and most enlightened meditators are agnostic, Osho settles for godliness. Thus, they conclude a fully enlightened Buddha is the highest in existence. Only through their awareness is consciousness aware of itself. Hence the vital need for surrender to a master, he is the ultimate authority in existence.
Advaita is more sophisticated, it understands: Consciousness is all there is. Therefore the universe must be made of condensed consciousness; and the source of the universe must be consciousness of an unknowable type, that has the ability to design, create and sustain the universe. This is the definition of God, or Source. Now Source is revealing the truth: There is no need to surrender to any guru, surrender can only be to the Whole that gives you life. Your life is a gift of the Whole, and is enough reason to trust the Whole to take care of you when the ego lets go of control. Trust in what is, eventually flowers into surrender and enlightenment. Part of my work is to help bring clarity to meditators and relieve them of the burden of spiritual responsibility. And to share the techniques of Shiva with advaita people. Without meditation advaita can remain dry and intellectual. Understanding and applying the wisdom of Shiva and advaita is the foundation of spiritual maturity. They are the two wings of the bird of Unity.
The body is Source.