Vedanta Seven steps to Samadhi - Osho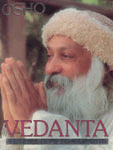 Samadhi. Enlightenment. That mystical magical word that signifies the ultimate ecstasy all spiritual seekers strive to attain. But how does one attain enlightenment? Can such a spiritual path be taught?

Osho has repeatedly said that enlightenment cannot be taught, that it is an individual event that happens without warning and in an instant. How is it possible then that Osho gives us seven steps to reach it? It could be divided into seven steps or fourteen or however many you like - it is only a device to comprehend the whole. It is utilitarian rather than existential.

Basing this series of discourses on the Akshyupanishad, Osho shares his own experience, as well as that of other enlightened mystics, of how to attain samadhi. The seven steps are a sort of "Seeker's Guide to Enlightenment," complete with all of Osho's usual jokes and anecdotes. He explains the Upanishadic wisdom of the mystical East in the context of the modern West, and appeals to seekers of every persuasion.
These Vedanta discourses were given during a nine day meditation camp in central India in the early seventies, where hundreds of seekers gathered to hear 0sho's words as well as experiment with his new meditation techniques. Each morning during the camp Osho comments on the Upanishad's Seven steps to samadhi, in the evening discourse the seekers ask all those questions all of us ask at one time or another. You can feel the energy and excitement of the moment, you can identify with the yearning to know more, to understand, to feel the truth of the words He speaks.
Osho's discourses, His words and wisdom, float over and through you and leave you savoring them for days to come. He weaves everyday concerns such as marriage, religion, boredom, and work into his talks and you can always find something to identify with, some message that is particularly relevant to your life. It seems as if He is speaking to each of us individually - His truth reaches each person differently - yet He speaks one message, one truth, relevant to all.
All spiritual seekers yearn to understand how to attain enlightenment, however much effort that may entail. Yet Osho tells us that effort is only required at the beginning of the search. The first three steps of the path involve the conscious will, the ego, the 'I' that we know ourselves as. Dropping the ego, not being a 'doer', becoming nonattached, a witness, all require effort - they will not happen on their own.
As you absorb the meaning of His words, you realize just how much of an effort He is speaking about. Drop your ego? Do things without identifying yourself as the doer? Become nonattached to your everyday activities, emotions and possessions? Is all this possible, even with your total effort? Osho assures us that it is indeed possible, though it will require a lot of work. Many seekers never progress beyond these first three steps, though they spend many lifetimes at it.
However, once the seeker has mastered these first three steps, the rest will happen spontaneously, you have only to allow it to happen. The last four steps flow from the first three as naturally as night follows day, with no effort whatsoever. Osho cautions us though, that if you are not receptive they will not happen. Any "doing" on your behalf will be a hindrance; you have only to let go and be receptive and the rest will follow. As Osho says, "One thing you have to do.- don't create hindrances after the third [step] ... you have just to flow and not do anything."
The final step, samadhi, will simply occur of its own accord, spontaneously, in any ordinary situation at any time. Osho relates the stories of previous enlightened masters and the circumstances under which they reached enlightenment. Their situations were so ordinary as to be almost laughable, yet they highlight the message that it is not your outer reality that helps you reach enlightenment but rather your inner readiness to do so, regardless of where you are or what you are doing.
These discourses are like delving into a mystery novel, in this case the mystery of samadhi, the central mystery of the Upanishad. Samadhi means the death of the ego, but not of your conscious being. It means liberation from the endless cycle of birth and death and rebirth by attaining the seventh and final step of the path: being fully alert, fully conscious, fully aware. This is samadhi.
Vedanta: Seven Steps to Samadhi is a timeless feast, a royal banquet for seekers to consume. Once you taste this series of Osho discourses, you want to devour it all at one sitting, though you know you will relish each morsel as you dine. Savor it, roll it around on the tongue of your consciousness, digest it into your very being - and then go back for second helpings. 'Vedanta' is gourmet dining at its best, by the finest Master chef there is: Osho. Bon Appetit!
Ma Deva Bhumika

Publisher: Rebel Press. ISBN 8172610122. 430 pages