---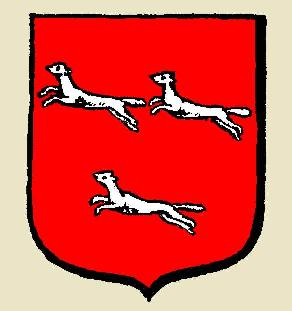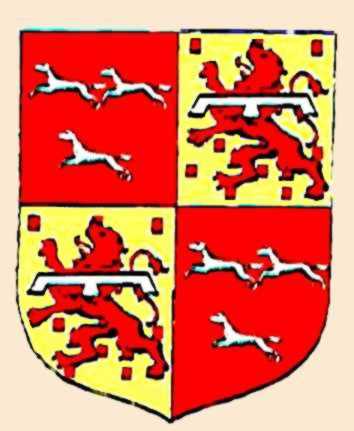 van Wesel van den Honert
---
portal Van den Honert
my mother MSE van den Honert and all her ancestors
Van Wesel genealogy
Tussen Lek en Zuiderzee (Amerongse tak Van den Honert)
Thomas van den Honert (Voorburg/Leidschendam)
Van Tol (Toll, Tholl)
coat of arms
general index

---
Genealogy Van Wesel and Van den Honert in Dordrecht:
Matthijs Balen, Beschrijvinge der stad Dordrecht, 1677
Van den Honert in Ned. Patriciaat 31, 1945
---
According to Matthijs Balen the family's origin was German Wesel, but the famiily established itself in Brabant; Thomas Cleyszoon van Wesel came from Brabant to Dordrecht, Balen says, and married Christina van Slingelandt there.
His grandson Thomas Rochusz. and some of his brothers and sisters called themselves after a piece of land he had acquired "Van den Hon(a)ert". The first time this name appears is on June 18th, 1561, when our ancestor Pieter is called Pieter Rochusz Honaart, see below, .
Maybe this "Honaert" was the place outside Dordrecht where his great-grandson Herman, burgomaster of Dordrecht, had a farm and some land (see below).
But there was a place not so far from Dordrecht called den Honaert (link); it seems this was an old dike SE of Strijen. Maybe the family owned a piece of land here. There was a Weeda family whose members also called themselves Van den Honaart after buying some land and establishing themselves there about 1590. It is interesting they used the same alternatives Honaert and Honert.
In Wateringen near The Hague there was a Hoonaerts tiend. As there were other well known families from Dordrecht owing houses here, also this can well have been the place Thomas van Wesel acquired.
There are more places called Honaert. My theory is it comes from Hogen Aert, High Earth.

When in 1786 my ancestor Joan van den Honert was born, he was the only one to continue this name, so now every Van den Honert is descended from him. There are members in England, Canada, the U.S. and South Africa.
With the death in 1934 of Sara Anna Jacoba van Wesel, married to Willem Hartelust, the name would have disappeared, if their descendants wouldn't have continued the name, see Hartelust family and Van Wesel family


Of course many women had married men from families still surviving: e.g. through Cornelia van Wesel and her children from three husbands Van Noortwyck, Lupardus and Schenck many people in the U.S. have Van Wesel ancestors.

In the 17th century many rich and important families tried to trace their origins back to ancient noble families. So the Van Wesel family found an old "Van Wesele" family near Antwerp, and declared themselves descended from that family. What they didn't realize was, that Wesele, of which these "ancestors" were the lords, was not German Wesel, but the old name for 's-Gravenwezel near Antwerp.
After the northern Netherlands freed themselves from the Habsburg king of Spain, one had to go abroad to get some noble title.
Rochus van den Honert (link) got the title of knight from the Queen of Sweden for his diplomatic successes.
His great-grandson Johan or Jan van den Honert was a member of the Raad van Brabant en Overmaze, governing the parts of Brabant which were now part of our country; Austrian Habsburg king Charles VI, governing the southern parts (now Belgium) made "his friend" a baronet, recognizing his pretentions to belong to the southern Van Wesele family, and Johan acquired the barony of Piétrais les Harlut, Rèves et Ruart near Nivelles/Nijvel, now Belgium. Unfortunately all his children died.

Nothing has really been proven of these pretentions, and I don't believe them to be true.
There is only one thing pointing to Antwerp: the mother of Thomas Cleyszoon who came to Dordrecht is said to have been Machteld van Berchem, daughter of Costijn van Berchem (called Machteld van Verge by Balen, but that name doesn't exist). Well, this Costijn has really lived, we know names of his children, but nothing is known about a daughter called Machteld.
It is not impossible, though, this name is correct, and Thomas and Cleys may certainly have lived somewhere in Brabant. All members of the family in Dordrecht married people from distinguished families, so Cleys may have married a Van Berchem. But maybe it was made up to make the Wesele connexion more probable.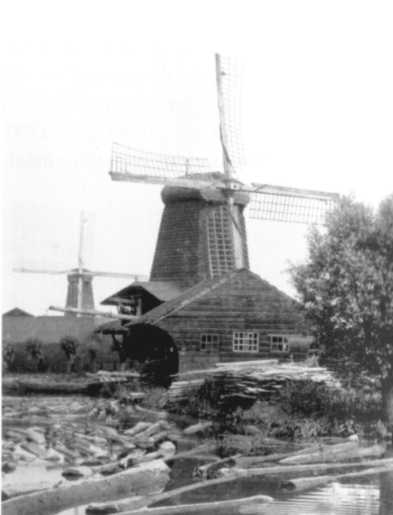 timber in Dordrecht, and behind "De Windhond",
one of the sawmills founded by the Van Wesel family
But all the same, in the Dordrecht archives I have found out many exciting facts about the family.
We knew already they had many functions in the town government, but I have found out more.
Rochus Thomaszoon van Wesel is mentioned as a timber trader, he married the daughter of a timber trader (Frans Floriszoon van Tol, accepted into the Saint Nicholas guild in 1506), his grandson and my ancestor Dirk Pieterszoon van den Honert had the same profession, and so had his son Frans Rochuszoon van Wesel (also called van den Honert and van Tol).
His descendants played an important part in the timber trade and industry. The family owned a number of sawmills, one of them significantly called the "Van Wesele molen". It is also from this branch Cornelia van Wesel came, who went to New York.
Many marriages took place with members of other timber families like De Witt (see De Witt), van Haarlem, Rees and De Vries.
These families were among the most important in Dordrecht, economical and political power being in the same hands.

The independant Republic of the Netherlands started in Dordrecht (end 16th century). The whole leadership became protestant in 1572. This town had been booming and was anxious to defend its economic position. All the coins of Holland (the most important province of the Netherlands) were struck here and they had the monopoly for selling timber, which was transported from France and especially from Germany, over the river Rhine, with enormous rafts.
As the next town on the Rhine with this monopoly was Wesel, there is a good chance the family came from there after all.

My ancestor Joan van den Honert (Dordrecht 1636-Norden 1721) worked as an engineer and cartographer in Northern Germany, where he called himself Johann von Honart; see his biography in Biographisches Lexikon für Ostfriesland.
He married a Frisian woman there and since then the Frisian names Taco Hajo are common in the family, the best known being their son the theology professor, and in our time the Dutch hockey player.

Later on we find back the family in The Hague and other places. They were of course well educated and we find relationships with well known cultural figures and scholars.
Knight Rochus van den Honert (link) wrote Latin poetry, he and Mr. Herman van den Honert were curators of Leyden University.
Dominicus van Wesel married Anna Roemers Visscher, member of the "Muider Kring".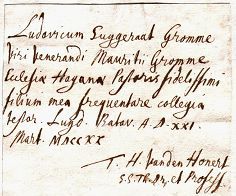 Handwriting of prof. Taco Hajo van den Honert, testifying that L.S. Grommé is attending his lectures:
"Ludovicum Suggeraat Gromme (= Grommé) viri venerandi Mauritii Gromme Ecclesiæ Haganæ Pastoris fidelissimi filium mea frequentare collegia testor. Lugd. Batav.
A.D. xxi. Mart. MDCCXX T.H. van den Honert S.S. Th. (Sanctissimæ Theologiæ) Dr. et Profess. "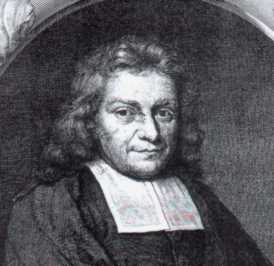 &nbsp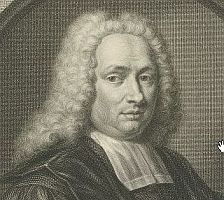 My ancestors Taco Hajo van den Honert and his son Jo(h)an van den Honert were fulltime scholars. They were both theology professors and had much authority in the official Reformed Church.
Professor Joan's grandson Joan van den Honert born 1786, was a law specialist best known for his Formulierenboek.

---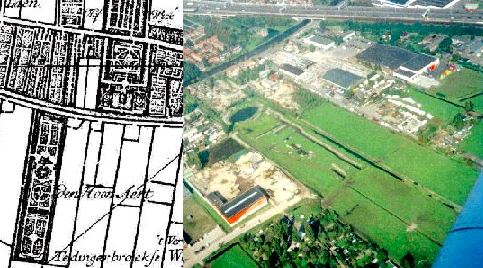 link

Thomas van den Honert (1606-1672), son of Knight Rochus, wagenmeester-generaal of the United Netherlands, Lord of Puttershoek (1670-1672),
acquired in 1648 an estate near Voorburg/The Hague which he called Den Honaert (written as Den Hoon Aert on this old map) like the piece of land his family name came from.
Opposite the canal is Hofwijck, built by politician and poet Constantijn Huygens. The families knew eachother well, read the article on my site about Thomas.
The photo was taken some years ago when excavations took place there. Look at the beautiful pond.
The old house has disappeared and a farm was built near the Westvlietweg, but the inhabitants of this beautiful house have called it Hofstede van den Honert.
---
There has been still another Den Honaert: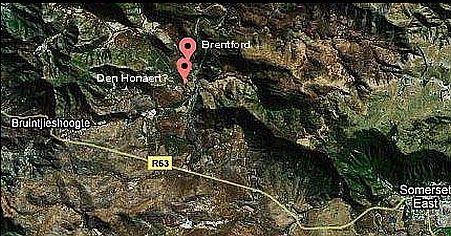 My grandfather August van den Honert has had a farm from 1923 to 1929, which he also called Den Honaert. This was in South-Africa near Brentford, 13 miles from Somerset East (Somerset-Oos), Eastern Cape Province.
I think this must have been its location. If anyone can confirm this, or has more information about it, please contact me!

---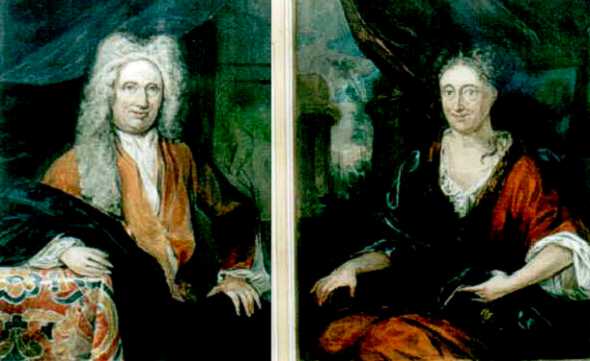 Herman van den Honert married Anna de Witt, daughter of Johan de Witt, raadpensionaris of Holland (see also De Witt)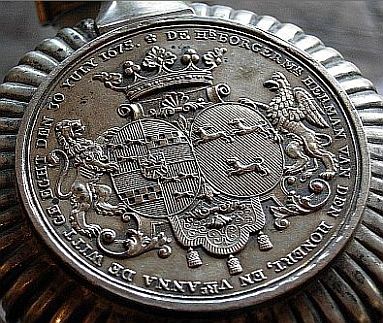 Mr. Herman van den Honert (1645-1730) was secretary (1674-88) and burgomaster of Dordrecht (1702, 1706-07, 1712-13, 1718-19 etc.). Many times he represented Dordrecht in the Gecommitteerde Raden van Holland. Since 1703 he was curator of Leyden University.
Lately I found back his "buitenhuis" near Dordrecht, where he could retire from his busy life in town: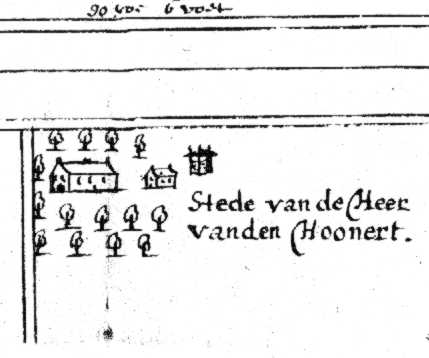 ---

About hockey player Taco van den Honert see wikipedia.

---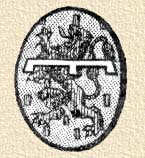 VAN TOL (TOLL, THOLL)
Rochus Thomaszoon van Wesel married Maryken van Tol. She was the daughter of Frans Florisz van Tol, whose name I found in the register of the Saint Nicholas Guild of which he became a member ("gildebroeder") in 1506. He had a number of functions in Dordrecht and was 'burgemeester van 's heeren wegen' in 1529-30 and 1540-42 (about this function).
The family pretended to be descended from the Van Teijlingen family and through them from the Counts of Holland. It is possible but much remains uncertain.
My mother's coat of arms is the one shown above, see more beautiful here. It is a combination of Van Wesel and Van Tol. The Van Tol coat of arms shows the colors (gules on gold) and the lion of the County of Holland.

According to Balen:

Jonge Floris Florisz van Tol ∞ Machtild Vink
↓
Frederik Florisz van Tol ∞ Elisabeth van Boshuijsen
↓
• Simon Frederiksz van Tol ∞ Geertruijd Coppier van Calslagen
and
• Pieter Frederiksz van Tol ∞ Diewer van Alkemase
↓
Maurijn Pietersz van Tol ∞ Maria van Alphen
↓
Floris Maurijnsz van Tol, Balen doesn't know about a marriage!
↓
■&nbspFloris Florisz van Tol, burgom. 1505-09 in Dordrecht, ∞ Maria Speyart
● Adriaen, raad en veertig 1558-62 in Dordrecht.
■&nbspFrans Florisz van Tol, burgom. 1529-42, ∞ Catharina Bezemer
● Adriaen
● Maryken ∞ Rochus Thomasz van Wesel

But Balen made several mistakes.
Floris Florisz van Tol jr. never married a Machtild Vink, and never had a son Frederik.
First he married Clementia van Poelgeest, they had a daughter Elisabeth or Lysbeth who married Simon-Frederik Gerardsz.
A second marriage was to Heilwijf van Swieten Dirksdr, their son Dirk became the new Lord of Tol.
But when Dirk died without heir, he was succeeded by his sister's husband Simon-Frederik Gerardsz, who then could call himself van Tol.
He died in 1466 and his son Gerard Simon-Frederiksz van Tol took over, who had married Stefanie van Oudeveen Jacobsdr.
But in 1471 he handed over Huis Tol to his uncle Jacob Copppier Hendriksz and for a century the manor belonged to that family.
I assume he had a son Floris Gerardsz and they were our ancestors, because I find this in the 'Repertorium op de grafelijke lenen in de grote Zuidhollandse Waard, 1276-1650' by J.C. Kort (link) about a 'schroodsambacht' (distributing wine and beer) in Dordrecht:
5-3-1493: Floris van Tol Gerardsz.
17-6-1521: Frans van Tol bij dode van Floris, zijn broer, te Dordrecht
12-3-1547: Adriaan van Tol bij overdracht door Frans, zijn vader
3-5-1547: Rochus Thomasz. bij overdracht door Adriaan van Tol
18-6-1561: Pieter Rochusz. Honaart bij overdracht door Rochus Thomasz.
5-2-1578: Thomas Rochusz. bij overdracht door Pieter Rochusz., burger van Dordrecht, zijn broer
19-12-1601: Burgemeesters van Dordrecht krijgen ten eigen.
If I am right, Gerard took over Huis Tol in 1466 but left that five years later, and his sonFloris Gerardsz van Tol took over the "schroodsambact" in Dordrecht in 1493.
Was he succeeded by his brother Frans van Tol?
No, Frans and his brother Floris were always called Florisz.
So I assume they were both sons of Floris Gerardsz and the funtion must first have gone to Floris and then, when he died in 1521, to his brother Frans. They were both burgomasters of Dordrecht, both 'burgemeester van de gemeente' and 'burgemeester van 's Heren wege'; Floris between 1505 and 1509, Frans between 1529 and 1541.
In 1547 the schroodsambachtt went to Frans's son Adriaan who after less than two months asked his brother-in-law Rochus Thomaszoon van Wesel, married to his sister Maryken van Tol, to take over.

So Balen was totally wrong about Maurijn, Pieter and Frederik.
☼ Remarkable: this is the first time, in 1561, we see the name HONAART!

Houtkopersregister: