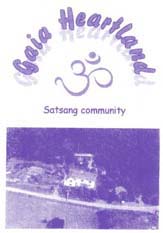 The quiet place Le Coq Banni is situated in the fruitful foothills of the Ardennen, close to the Belgian border. From Amsterdam only 4 hours driving with the car. Directly bordering a large fairy tale forest is the seminar house - a former old community building surrounded by some supporting construction facilities. A small Satsang Community exists here now, lovingly managing the seminar house.
Milonga Heartland in Northern France is a place, where you are invited simply to be who you are. Experience the love and silence of your true nature. Here you also can enjoy peacefull walks in the beautiful adjacent forest and/or if you feel like it we can dance and open up in many ways. Daily we offer professional bodywork like Shiatsu-massage, holistic bodywork, intuitive massage, 4-hand-massage, Reiki treatments- and initiations.
You can join workshops like Tai Chi, Yoga, Feldenkrais, Hellinger-family-
constel ation, the work of Byron Katie, Essence work, Tantra, Shiatsu, Experimental painting, Meditative achery or Silent Retreats, all offered by our association in Le Coq Banni, which is only 4 hours driving from Amsterdam. Just easy!
In our guesthouse we rent out rooms with or without cooking equipment. Breakfast, lunch and exclusive vegetarian dinner are prepared daily. The buildings are kept smokefree. Outside is a covered place available for smokers.
The garden is big enough to provide space for tents in beautiful individual spots between trees close to the forest.
Those who are attracted to Gaia Heartland can organize their own workshops, meetings and happenings up to 30 persons. Please give us a call or an e-mail for further information. We will give our best to answer your questions.
How to come to Milonga Heartland

- If you come from Holland, northern Germany or Denmark you have to come via Charleroi, in Belgium. In Charleroi autres directions, 2nd exit to Beaumont, then Ponce, Chimay, Hirson. When you reach Hirson, don't go to Hirson. The f irst roundabout you go straight, the second go direction Charlesville-M., after 200 m direction
Bucilly/Jeantes, straight through Bucilly, after 5 km left on 1) 29 to Jeantes /Coingt. In Coq Banni f irst crossing left, after the curve at the left side is Gaia Heartland.
- From southern Germany, Switzerland or Austria via Reims, Vervins, direction Hirson. After La bouteille right off on D 29 direction Aubenton. After ca. 10 min. you reach Coq Banni.
- If you will come by train, you have to go to Hirson and if you give us a call
++33 (0) 323 988 559 we pick you up from the station.
5