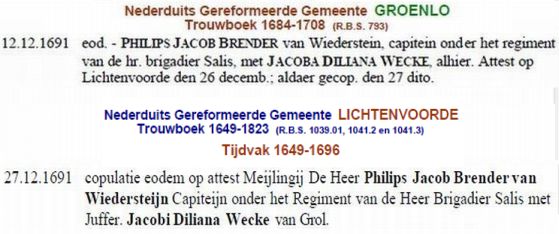 Philip Jacob Brender (see link above) was registered (source) as coming from Wiederstein. Nobody has been able to find this place so far, but I am sure I have found it in the former German county of Sayn-Altenkirchen. Read my arguments below.
---
Oct 16th, 2010

From different internet sources I take this unverified information.
regionalgeschichte.net promises: "Brender aus Bendorf [Artikel in Bearbeitung]".

Syvart/Siffert BRENDER , * Bendorf (near Sayn) ± 1470, † Sayn < 1546
X ± 1500 … von MAYEN, † Sayn < 1546, dr. of Jost von MAYEN, Schöffe (elderman, schepen) in Sayn, & Hilla …

Sons (maybe Heinrich was Jakob's son):
Jakob BRENDER, * Bendorf, Stadtschultheiß (stadsschout, city sheriff) in Hachenburg, follows
Heinrich BRENDER, Stadtschultheiß, later Landschultheiß (= Schultheiß der Hohen Feste) in Hachenburg. source Heinrich Brender, der seit 1561 als Landschultheiß, später als Keller und Rentmeister in Hachenburg und zeitweise auch in Altenkirchen in saynischen Diensten stand und 1579 nach Streit mit dem Grafen kurtrierischer Keller in Monreal bei Mayen wurde, hatte schon vorher seinen Hof in Wied ('Bramichs Hoib') mit seinem Hof zu Altstadt (near Hachenburg), dem Brendershof, 1575 dem Erzbischof von Trier zu Lehen aufgetragen.
- Erbverschreibung der Grafen Heinrich und Hermann zu Sayn über den Hof Wickhausen und Niederhausen für Henrich Brender und Elsa, Eheleute, 1571 Dezember 24.
http://www.regionalgeschichte.net/hauptportal/regionen/weitere-regionen/westerwald/hachenburg/, now only in cache:
1554 Schultheiß Jakob Brender und die Schöffen der Stadt urkunden zusammen mit dem Schultheiß Johann Brender (prob. his son) sowie sieben Schöffen des Gerichts der Hohen Feste vor Hachenburg
1560 Schultheiß Heinrich Brender
1564 Schultheiß Jakob Brender und 9 Schöffen des Gerichts der Stadt Hachenburg urkunden zusammen mit Schultheiß Heinrich Brender und drei Schöffen des Gerichts der Hohen Feste vor der Stadt
1576 wird der ehemalige Schultheiß des Gerichts vor der Hohen Feste, Henrich Brender, Stadtschultheiß in Hachenburg.

Jakob BRENDER, Stadtschultheiss in Hachenburg, * Bendorf ±1500, † Hachenburg 20 Oct 1566, X < 1534 Catharina …

Children
Luitgard/Lückertgen, * Hachenburg, † Limburg a.d. Lahn <1574
# Adam WEN(T)ZEL, Schultheiß in Höchstenbach.
Daughter of their son Huprecht was Anna WENZEL, who married Johannes BRENDER in 1615, see below.
Johann(es), follows.
Jacob?, follows
Johann(es) BRENDER, Landschultheiß in Hachenburg.
"... ein Brief, den der saynische Diener Johann Brender im Juli 1560 an seinen Vater Jacob Brender, den Schultheißen von Hachenburg sandte", so not the same as Johannes who married Anna Wenzel, see below.

Jacob BRENDER, gräflicher saynischer Oberwaldförster, † <1609, X Magdalena STROE. dr.of Conrad STROE † Dec 1607, & Christina … Conrad's father: Thiel (Tillmann) STROE from Altenkirchen.
1561 - Tillmann Stroe, vormals katholischer Pfarrer von Leuscheid, ist erster lutherischer Pfarrer in Altenkirchen (bis 1562)
1573 - Schultheiß zu Altenkirchen ist Conrad Stroe

Sons of Jacob:
Hans Adam BRENDER, liv. Altenkirchen between 1605 & 1628,
X 1609 Cecilia von ARKENDORF, dr. of Bertam von ARKENDORF, bergischer Rentmeister und Landdinger des Amtes Löwenburg.
Johannes, Landschultheiß
# 22 Jan 1615 Anna WENZEL, * Limburg an der Lahn, dr. of Huprecht WENZEL, Schultheiß beider Holzhausen, & Elisabeth HA(H)N. (geneal. Wenzel)
Children of Johannes:
prob. Ernestus, follows.

Hanß, ~ Altenkirchen 14 Apr 1616 (witness Count Ernst von Sayn-Wittgenstein-Sayn).

Anna Agatha, ~Altenkirchen 23 Sep 1618.

Conradt, ~ Altenkirchen 10 May 1620, † 2 July 1654,
# Altenkirchen 31 Aug 1641 Loysa Juliana WEIGEL, * Hachenburg 1623, bur. Altenkirchen 27 Sep 1685, dr. of Johann Wilhelm WEIGEL and Agnes KLINCK.
Daughter Catharina Gertraude BRENDER, * Widderstein 1647, buried Weyerbusch 13 June 1727, X 30 May 1668 Johann Heinrich CRAMER, * 1644, buried Weyerbusch 1 Oct 1713. Their son Wilhelm Heinrich CRAMER married 1695 Johanna Christina ZWEIFFEL, they both died in Widderstein (source).
But according to Marco Janke's article on Widderstein Catharina was the daughter of Jacob Brender:
"Es tritt wenig später eine weibliche Nachfolgerin des Geschlechts derer von Holdinghausen auf, ... Sie heiratete den Rat der Grafschaft Jakob Brender, der vor 1668 verstarb. Ihre Tochter Katharina, geboren 1647, heiratete den Richter des Kirchspiels, Johann Heinrich Kramer, der in Weyerbusch lebte, allerdings mit seiner Frau später auf das ererbte Gut Widderstein zog. Ihre Tochter Maria Elisabeth wiederum heiratet einen Johann Georg Dormann im Jahre 1690. Johann Georg Dormann war Leutnant, wer wurde später Major und verstarb im Jahre 1747. Seit dem Zeitpunkt, an dem Johann Georg Dormann Maria Elisabeth heiratete, blieb das Gut in den Händen von Nachkommen des Geschlechts der Dormanns."
So whose son was this third Jacob Brender?
Philip ALTGELT in his diary calls both Ernest and Conrad 'Vetter' so it is very probable they were brothers:
"Johan Philipus is geboren anno 1640 den 19 aprilis des abents hart fur eilf uren. Patten on Goden H. Alhard Philip Pickard, H. Vetter Ernestus Brender und Cathrein H. Hermanni Brincken hausfraue."
1647 "Der Patte ist gewesen H. Vetter Conradus Brender zu Wiedstein", which proves he was living in Widderstein.
(Philip's grandmother was Christine Stroe, sister of Conrad Stroe whose daughter married Jacob Brender.)

Ernestus, Paedagogium Herborn 1628-1633 (see below).
He must be the father of the Brenders we find in the Netherlands. Probably born in Widderstein:
Johann Hermann, not mentioned in Germany.
Johann Conrad
daughter: Margretha Elisabeth
Philipp Jacob
Johann Heinrich, comes from Siegen to the Paedagogium in Herborn together with Martinus in 1673 and is mentioned there until 1676. Not mentioned in the Netherlands.
Martinus
Anna Maria
From 1673 to 1695 twelve children are baptized of Johan Georg Conrad WENTZEL, Kammer- und Forstschreiber, Gräflicher Oberförster in Braunfels (now Lahn-Dill-Kreis). As witnesses we find in 1673 and 1675 Anna Maria BRENDERIN or BRANDERIN; in 1677 Philipp Brender, Fendrich unter des Prinzen von Oranien Garde, in 1679 Jungfrau Margretha Elisabeth, Johann Conradt Brenders Tochter
Later, in 1769, we find in Braunfels the marriage of Henriette Agnes BRENDER von WIDDERSTEIN (daughter of the late Caesar Friderich BRENDER von WIDDERSTEIN, who had been Fürstlich Braunfelsischer Capitain) and Alexander Polexius LINDISCH, court physician in Braunfels. .
See Brender (à Brandis) in the Netherlands.
---
Mijn argumenten voor Sayn als herkomst van de familie Brender:
Van de broers die naar Nederland kwamen is van Philip Jacob vermeld dat hij uit Wiederstein kwam; vroeger werd Widderstein vaak zo gespeld, een kleine plaats bij Altenkirchen in het oude graafschap Sayn-Altenkirchen (ten westen van Nassau-Dillenburg).
Het dier in het wapen, vooral op het zegel, lijkt op de ram uit het wapen van Widderstein (Widder=ram).
Men vindt op internet later zelfs "Brender von Widderstein". Henriette Agnes trouwde in 1789 in Siegen met de hofarts aldaar, zij was "wayland Herrn Caesar Friderich BRENDER von WIDDERSTEIN, gewesen Fürstlich Braunfelsischen Capitains, nachgelassene eheliche Tochter". Het ligt voor de hand dat zij de ram in hun wapen hadden, naast het zeer algemeen voorkomende brandende stuk hout voor Brender. Verschillende Brenders hebben op kasteel Widderstein gewoond.
Er vochten veel protestantse officieren uit Nassau en omgeving in de Nederlanden om de vrijheid van de Republiek te helpen verdedigen. Eerst was dat in de tachtigjarige opstand tegen het katholieke Spanje, maar rond rampjaar 1672 werd het land weer van alle kanten bedreigd en dat is de tijd dat de broers in Nederland verschenen, één vechtend in het leger van Johan Maurits van Nassau-Siegen die een groot bewonderaar was van de Republiek, al was daar even (1650-1672) geen Van Nassau als stadhouder.
De broers die naar Nederland kwamen noemden een zoon Ernestus, dus de conclusie ligt voor de hand dat zij een vader hadden die zo heette. Inderdaad vindt men in 1628 een Ernestus Brender die uit Altenkirchen kwam en toegelaten werd tot het Pædagogium (een soort Latijnse school) in Herborn in Nassau. Het jaartal kan goed kloppen.
Eerder vinden we in Herborn Johannes Adamus Brenderus Altenkirchensis en Johannes praetor provincialis (Landschultheiß) Altenkirchensis. Dat hij landschout was zal er later bijgeschreven zijn.
De broers in Nederland heetten Johan Harmen, Johan Coenraad, Philip(s) Jacob en Martinus.
Aan de school in Herborn studeert vanaf 1650 Johannes Conradus Brender uit Altenkirchen.
In 1673 komt Martinus samen met een broer Johannes Henricus van een andere school. Kennelijk was Martinus na dat jaar klaar, want zijn broer wordt totaan 1676 genoemd maar hij niet. Klopt prachtig: in 1676 wordt Martinus in de Nederlanden genoemd als vaandrig, begin van een militaire carrière!
De familie daar had een sterke band met de graven van Sayn, in wier dienst zij stonden (en van wie Widderstein een leen was). In 1616 was de graaf zelfs peetvader bij de doop van een zoon (Hanß) van Johannes Brender en Anna Weizel. Die graaf heette ... Ernst (=Ernestus). De naam Ernst komt verder in de familie niet voor, dus het ligt zeer voor de hand dat ook een zoon Ernestus naar de graaf genoemd is.
Johannes had een andere zoon Conrad (een naam uit de familie Stroe), Ernestus zal dus Johannes Conradus naar zijn broer hebben genoemd. Die naam blijft in de familie (Christoffels broer Coenraad was advocaat/notaris).
Als Philipp Altgelt, wiens vader predikant in Altnenkirchen was van 1637 totaan zijn dood in 1657, kinderen laat dopen, zijn daarbij getuigen: 1646 en 1648 Herr Vetter Conradus Brender zu 'Wiedstein' en 1641 H. Vetter Ernestus Brender.
In 1677 wordt in Braunfels (Solms) Johann Philipp Wentzel gedoopt, getuige Philipp Brender, Fendrich unter des Prinzen von Oranien Garde. Dat was Philip Jacob, want in 1673 en 1675 was zijn zuster Frau Anna Maria Brenderin getuige en in 1679 Jungfrau Margretha Elisabeth, Johann Conradt Brenders Tochter!
---
Matrikel der Hohen Schule und des Paedaqogiums zu Herborn.
Men doorliep de vijfde totaan de eerste klas en werd dan toegelaten tot de colleges.

• 1599—1600
• Johannes Adamus Brenderus Altenkirchensis. (link)
1601-1602
• Johannes Brenderus Altkirchensis. 27. Aprilis.
Anno 1603
• Johannes Adamus Brenderus Altenkirchensis Seynensis.
Anno 1606. die octavo Januarii domino doctori Antonio Matthaeo Marpurgum evocato in professione pandectarum et rectoratu simul surrogatus et publice in solenni congressu rector scholae Herbornensis renunciatus est Philippus Henricus Hoenonius iuris utriusque doctor, a quo inscripti sunt hi:
• 3. Johannes Brenderus Altenkirchensis. 7. Maii. praetor provincialis Altenkirchensis.
1628
• Ernestus Brenderus Altenkirchensis, venit ex schola patria, promotus ad classem quintam.
1628-32
Ernestus Brenderus Altenkirchensis, venit ex schola patria, promotus ad classem quintam.
• 5tae Cunradus Brenderus Altenkirchensis Sainanus.
1633, promotus ex classe (prima):
• Ernestus Branderus Altenkirchensis.
1650—1651 Ex classe quinta ad quartam exierunt:
• Johannes Conradus Brennerus Altenkirchenanus.
1653—1656 Matrikel der Hohen Schule:
• Johannes Conradus Brenderus Altenkirchensis Seynanus.
Classem quintam, cuius praeceptor Johannes Georgius Theisius, constituebant :
• Johannes Conradus Brennerus Altenkirchanus.
1657
Ex prima classe ad publicas lectiones sunt emissi:
• Johannes Conradus Brenderus Altenkirchensis. 1660-61
Die 24. Octobris ex schola Sigenensi accessit: (gekomen van de school te Siegen)
• Johannes Jacobus Brenderus Altenkirchensis et praemisso examine in primam classem receptus est.
Anno 1673 die 18. Martii ex schola Echzensi huc appulerunt:
• Martinus et
• Johannes Henricus Brenneri, fratres germani, Altekirchenses.
1674 Ex tertia ad secundam emerserunt:
• Johannes Henricus Brenderus Altenkircbensis.
1674 Secundae classis, in qua praecipiebat Henricus Wissenbachius, discipulorum numerus hic erat:
• Johannes Henricus Brenderus Altenkirchensis Seinanus.
1676 Ex secunda primae:
• Joh. Henricus Brenderus Seinanus Altenkirchensis.



---
Bronnen:
Die Matrikel der Hohen Schule und des Paedagogiums zu Herborn, ed. 1908
Thomas Heldt, Zwischen Konkurrenz und Konflikt, Grafenfamilien des Westerwalds, dissertatie 2009, Brender vaak genoemd
Die Besitzer des Gutes von Widderstein
inwoners Altenkirchen 1605-1628


---